---
Kushi Battle System (turowy, boczny)
Witajcie!
W tek poradce pokażę jak zrobić BS z widokiem bocznym (turowy)
Skrypt jest z małą ingerencją w RUBY ale umieściłem go w poradach
Najpierw zaznaczamy sobie obrazek z charsetu naszego potworka. W tym przypadku jest to duszek.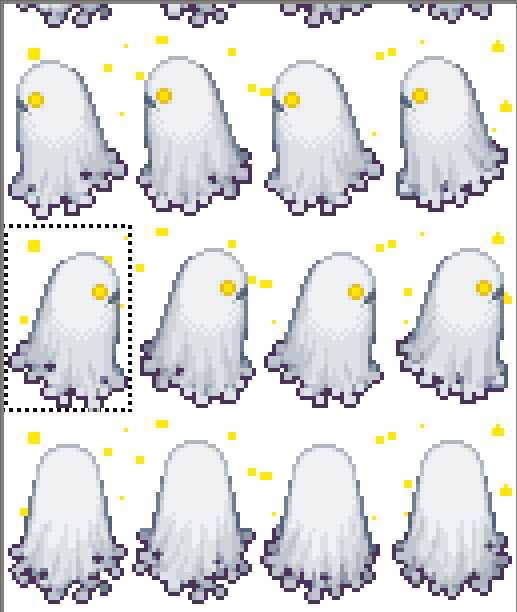 Następnie tworzymy nowy obrazek i wklejamy tam naszego duszka.
To samo robimy z naszym bohaterem. Można mu dorysować jakąś broń etc.
!UWAGA!
Bohater jest zwrócony w lewo
!UWAGA!
Teraz musimy zrobić animację.
Polecam ściągnąć ten obrazek:

Przy duszku wystarczy zrobić dwa obrazki; jeden normalny, drugi z otwartą paszczą.
Przy naszym herosie, jeśli ma miecz polecam 4 tak jak na screenie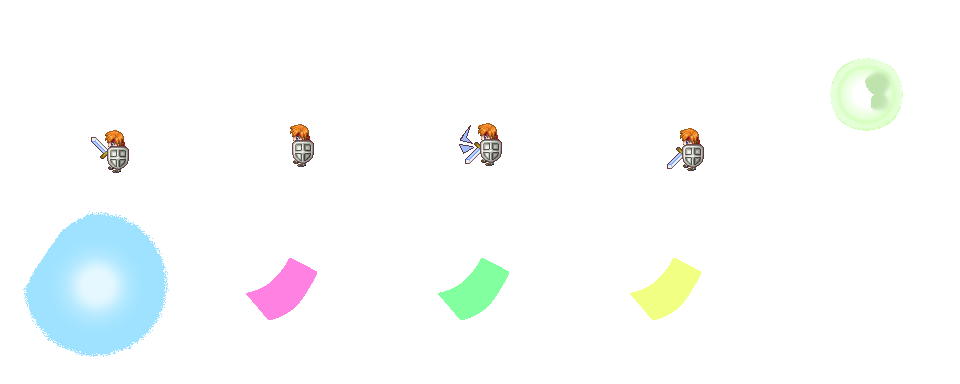 Otwieramy makera i tworzymy 2 animację; ataku duszka i naszego bohatera.
Teraz w zakładce
"bronie"
zmieniamy animację na anim jednej z tych które wcześniej zrobiliśmy.
Następnie w zakładce
"potwory" (przeciwnicy)
ustawiamy że nasz duszek ma animację tą którą wcześniej zrobiliśmy.
Teraz czas na ingerencję w
RUBY
Wchodzimy w Game_Actor, zamieniamy istniejący kod na ten:
Teraz wchodzimy do Game_Actors i zamieniamy kod na ten:
Teraz możemy jedynie zmienić miejsce potworów i walczyć!
Oczywiście cały BS posiada jeden mankament jak jest więcej członków teamu to trzeba robić 4 razy więcej przedmiotów i skilów albo szperać w typowych zdarzeniach
To tyle!
Wspomnij o mnie w creditsach
Narazie
---
Autor
: Kushi
email
:
kushi@o2.pl
Pobierz
: